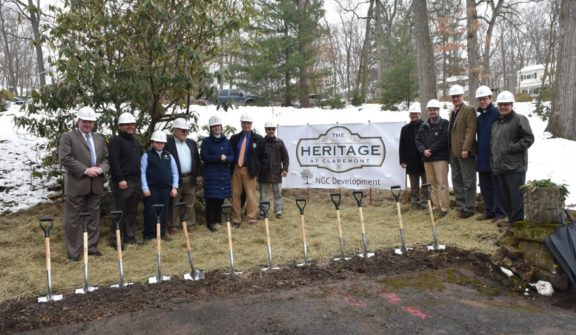 From Design to Reality
The Heritage at Claremont received approval of the re-adaptive use of St. Bernard's Episcopal Church parish house and the construction of a new two-story building housing 16 condominiums units back in April of 2017. The 1912 parish house will be preserved and converted into 4 condominium units. The proposed site improvements, including a new parish house, underground parking garage, stormwater facilities and landscaping were designed to integrate with and complement the surrounding large estate environs. Additionally, pedestrian access to the 1897 church grounds will be enhanced and improved. Construction was anticipated to begin in the spring of 2018.
Groundbreaking for The Heritage at Claremont, a 20-unit residential development on the grounds of St. Bernard's Episcopal Church on Claremont Road in Bernardsville took place in April of 2018, right on schedule. The project will include four condominiums in the existing historic Parish House and 16 units in an addition to the Parish House. The project is being developed by NGC Development. We are proud to be part of a great project team. The Conti Group, Beer Architectural Group, B.W. Bosenberg and Co – Landscape Architects, GLADSTONE DESIGN, Inc.