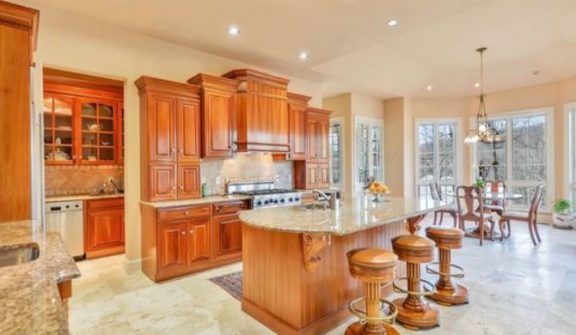 Home Renovation Trends in 2018
Many homeowners look to introduce their own personality and color choices when planning home renovations. Looking back over the year, there has been some interesting trends that have developed when homeowners, designers and architects come together to create unique spaces.
Many homeowners are now getting away from traditional hinged doors in favor of sliding interior doors, predominantly because they take up much less space. Whether they slide inside walls (pocket doors) or just outside (barn-style), these doors add amazing functionality while mitigating privacy concerns and drawing flexible boundaries between spaces. And of course, as an added bonus, they come in every material imaginable—from glass and wood to stainless steel and reclaimed timber.
Bathroom Trends
Extremely colorful tile on the floor has become a leading trend in the bathroom with white tile on a half wall and more color added at the top in terms of decorative paint or wall paper. Another trend is a move toward wall mounted toilets.
Other areas that have brought out the ultimate in design trends include the use of amazing textures, the use of wood on every surface, unique and oddly shaped mirrors, up lighting (back from the '80's) and monochromatic use of marble.
Kitchen trends
More homeowners are concealing their refrigerators with cabinet panels for a seamless, custom result that lies flush with the rest of the kitchen cabinetry. And, of course, you can also choose to create a custom panel for the dishwasher, as well.
The waterfall-style countertop delivers that wow-factor every time. Homeowners opt for waterfall-style countertops to mask under-island cabinetry; typically natural stone (marble, granite, quartz) is the material of choice. Waterfall-style countertops look stunning, as they create a seamless flow of materials from the top of the kitchen island down to the floor.
In past years, homeowners who loved the idea of an open floor plan concept would simply remove kitchen walls that separated the space from the rest of the home. Increasingly, home owners are choosing to turn one of those offending walls into a functional peninsula that increases counter space while providing a new eat-in option with room for stools.
In the past few years, the trend in colorful kitchen cabinetry has been gaining steady momentum, with bold, playful shades of blues such as navy, cornflower, indigo and royal all in increasingly high demand. Blue has become a popular color, whether you live in a sunny, warm climate or an urban setting.
You can be trend following, or you can be a trend setter! No matter which phrase describes you, at the Beer Architectural Group we work with you to establish the ulimate home environment. We want to help you create something you will be proud of for many years to come. We would love to sit down and discuss architectural trends with you! Give us a call to set an appointment.