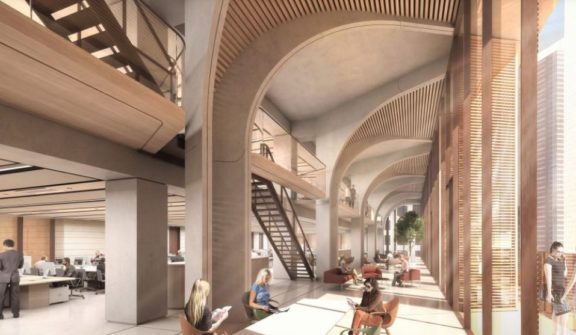 Inspiration in Architecture
Inspiration is a key ingredient in architecture and design. Inspiration can be found in many things, from nature to other industries to building designs in other countries.
Recently plans were revealed for a unique building that is going to be built overlooking the Harbor in Sydney, Austalia. Architecture firm Grimshaw has revealed plans for an office tower overlooking Sydney harbour, which will comprise three district sections and a curving roofline that references the vaulted shells of the nearby Opera House. The design is intended to appeal to the "millennial worker" that the newly developing district aims to attract – innovators in the creative, technology and finance sectors.
Taller towers flanking the site will block many of the views towards the harbour, but a room set right at the top of the glazed portion of the scheme will be afforded a glimpse of the Opera House. The curving ceiling of this room is designed to reference the vaulted shells of Jørn Utzon's iconic 20th-century design.
A double-height lobby and shopping area will be set in the base of the tower adjoining George Street, while plans for the basement may include a public art gallery, and restaurants and bars that aim to offer a "thriving night-time economy".
Construction on the scheme, designed by Sydney-based property developer Poly Australia is due to begin in early 2019 and complete in 2022.
To read the full article on this new design, please click on the link below.
Grimshaw unveils Sydney office tower designed to appeal to the "millennial worker"