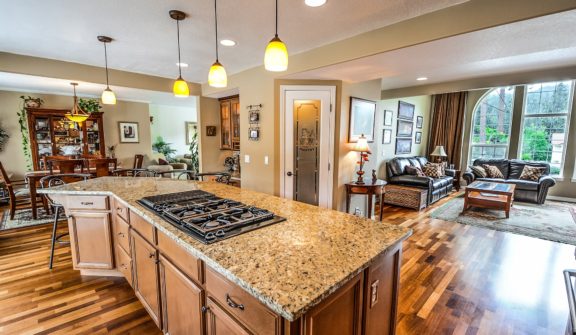 More Open Space Designs
Open floor plans are happening more than ever in traditional homes. Experts note that, on the whole, new construction seems to be going more contemporary. However, this open floor plan is not for everyone. But there is a big group of clients, who are in search of houses that have cleaner lines.
There are clients who choose to stay with more traditional exteriors, but are going with modern, open concepts for the interiors. This means fewer hallways and tiny, wasted rooms. Open floor plans afford more usable space — the kitchen that opens to the den and possibly dining areas. An abundance of glass to bring the outdoors in. Efficiency is also key. Homeowners are better understanding that 100 percent of their spaces should be completely usable. Open-plan living seems to be the mainstay of what many people look for in a home. Open space, is a popular lifestyle choice with a strong fan base.
What is Open-Floor-Plan?
An open-floor-plan space has no or few dividing walls amongst areas. Generally, this refers to the main living areas of the home — which are the kitchen, living room and dining room — which creates an open, flowing layout with fewer traditional and individual rooms (communal living space).
It's a frequent request in almost all renovation projects. Home offices and bedrooms are still preferred as separate, private, and smaller rooms. Open-plan living remains extremely popular, as it seems to sit comfortably with the way most people, live nowadays. Architects are often called upon to open up the small Victorian or Georgian homes by knocking down and removing internal walls. Joining rooms together usually creates light, airy, and fun social spaces.
Pros:
Open-floor-plan design encourages sociable living. As a design style, it impacts on the way residents use the space and interact with one another.
It promotes indoor-outdoor living. It increases light and the connection to the outdoors.
Great solution for small-space living. Knocking down walls to open up small homes is a popular way of creating a feeling of space. This makes perfect sense for most small and medium spaces.