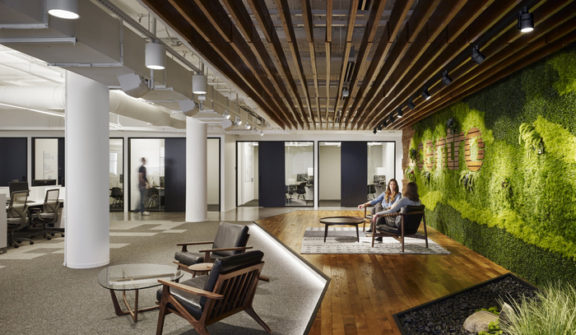 The Evolution of Office Design
The competition for top employees is getting fierce and employers are using transformational office design as a way to give them the edge when it comes to recruiting just the right people to work for them.
We have all heard the tales of how places like Google and Amazon have created amazing spaces for their staff members. However, many other companies are now taking a page out of their book and creating office space that engage all five human senses and even are mindful of everything from diet to the theory of color.
Of course, the first human sense to be engaged in an office surround is the eyes. Initial reactions and impressions are formed by the visual office design, the colors, amount of light and now, the amount of greenery!
Research has shown that office design influences human biology and the right effect can maximize productivity and comfort.
The next human sense to be engaged by office design is the auditory level. According to Neuroscience, the human voice evoked the most emotional response and voices in excess of 55 decibels (rough the sound of a loud phone call) can cause stress that is measurable. Office design can help by providing various 'quiet' areas, from private phone booths to private gardens. Some office designers have used water falls and running water to achieve the optimum creative environment.
Going 'green' is a direction that office designers are going in as even a picture of plants has a calming effect. If you really study what plants can do for human surroundings, they can even give off antiviral, immune-boosting chemicals that can promote everyone's general health.
Having different spaces devoted to different activities can also create the ultimate in office design. Humans have evolved a need for private spaces that can offer a sense of safety. This can mean that having a space with a door on it should be reserved for job type, not just the brass at the top!
Enclosed spaces tend to promote more focus, while larger, more open areas tend to promote creativity and group participation. And, of course, spaces that encourage physical activity are now a 'must' in office design.
If you would like to read more on this subject, try this link.
https://www.wsj.com/articles/how-neuroscience-is-optimizing-the-office-1525185527?Paid&nan_pid=1864321942&ad_id=8137310