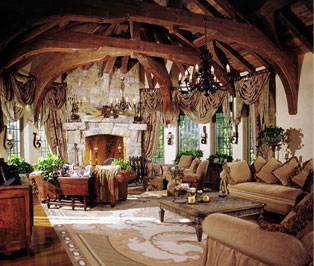 The Psychology of Color
Color has a major impact on us as individuals. Color psychology is the study of the way that colors impact our moods and emotions. Studies have found that colors can make you feel or act a certain way and research has shown how our psychological functioning can be directly influenced by color. It is very important to take our time and select the proper paint colors in our design projects. Each room or space needs proper thoughtfulness on what kind of mood experience you are trying to achieve.

For example, when you enter a kitchen, bright hues or shades can be a reflection of a happy or joyful mood, making the chore of preparing a meal more pleasant. When you enter your spa bathroom and even your bedroom, you will probably not want to be met by the color red. Studies have shown that red palates greatly trigger or increase stress responses. So, for a bedroom you will probably want calming and welcoming colors, because the mind is in search of peace and some sort of tranquility, making rich hues and soft pastels perfect for bedrooms.
Calming paint colors that experts recommend which may de-stress your space include:
1. Lavender
2. Pale gray
3. Cool blue
4. Grey blue
5. Aqua
6. Pale pink
7. Beige
8. Pale green
9. Mauve
10. Deep blue
Each group or family of colors above consist of endless extensions of colors and names. This is just a basic starting point to get you thinking about what color phycology to apply in each room. It is important to think about this at the beginning of your design project. Choosing the right colors at the beginning of a project will save you money and time.
We take pride in defining the standard of excellence in design consistency, cost-efficiency and quality control. We are committed to maximizing resale values and helping our clients to avoid costly and time-consuming mistakes. We want to make sure that our clients have thought about every aspect of their new design and have access to all the information needed to make the right choices for them.
If you want a smooth-running project with a satisfying finish, then call the Beer Architectural Group.